Every household needs comfortable furniture that can be used for various different occasions. Living room and bedroom furniture is of course the most important to most people since they spend the most of their time on these beds, couches, armchairs, and chairs. However, what you also need is a quality utility chair for other, more unconventional uses. While gardening, barbequing, or doing any kind of outside activity, you cannot really take one of your dining room chairs out. This is exactly where folding rocking chairs come in. They are versatile enough for a wide array of uses, and in this article we go over the best ones you can find on the market right now.
1. GCI Outdoor Freestyle Portable Folding Rocking Chair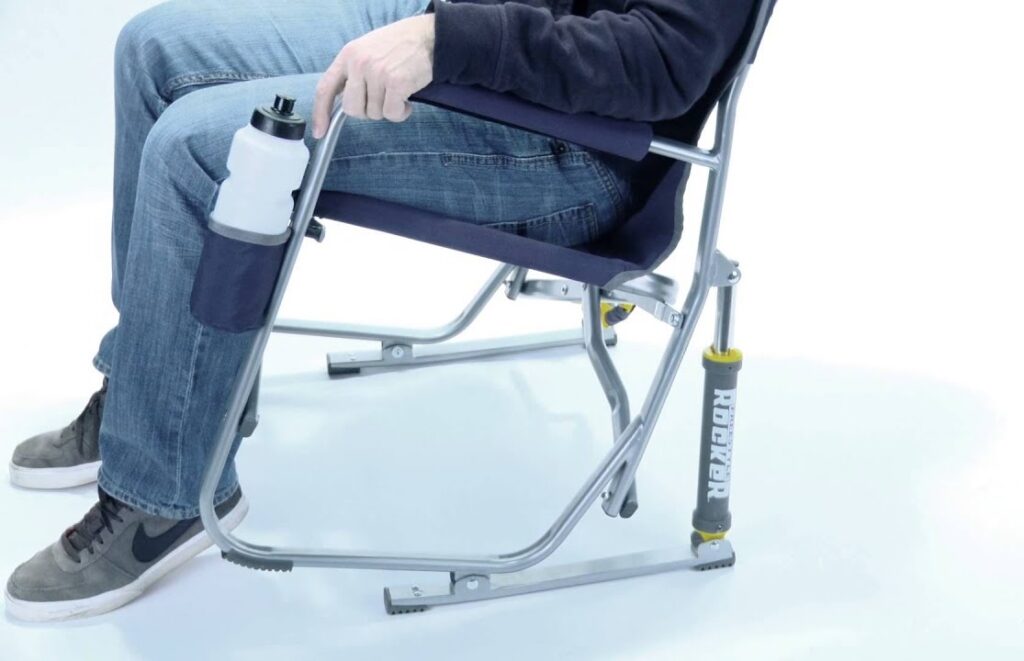 The GCI Outdoor brand is popular among customers and their products often have thousands of positive reviews on online stores and shopping services. This folding chair comes in two colors, cinnamon and indigo blue, and it has all the things you need for a comfortable outdoor leisure time. The seating areas are made of leather, and the construction is alloy steel. It measures at 24.75 x 24.5 x 34 inches, while the seat is 19.7 inches high. Maximum weight it supports is 250 pounds, and the chair itself weights only 12 pounds. Because of this, as well as its amazing EAZY-FOLD technology, it is easy to carry around and store away. Once you get it, you will want to carry it on your every trip no matter how long it is. The chair also comes with a neat cup holder.
2. Best Choice Products Foldable Rocking Recliner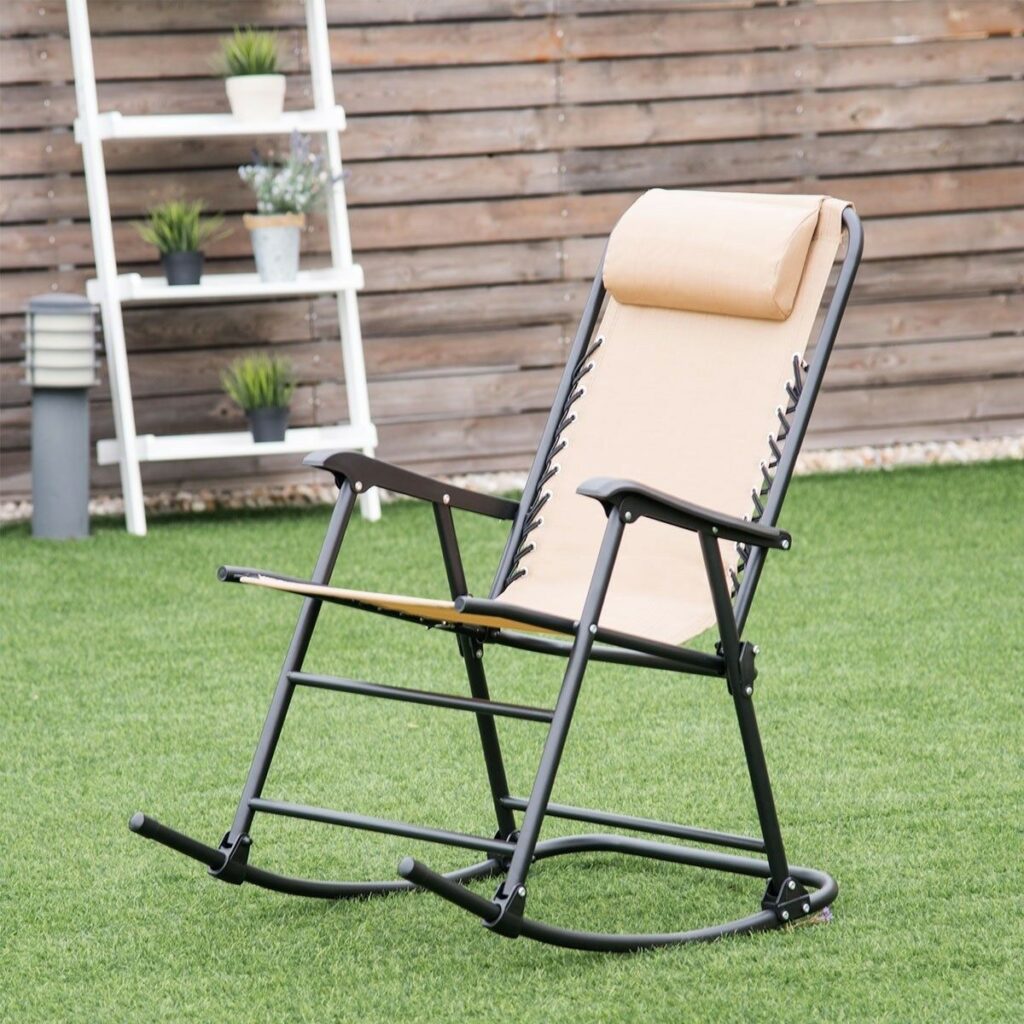 The second chair on our list comes in five colorways, beige, black, blue, gray, and orange, meaning you can pair with various different garden settings. The steel frame it utilizes is weather-resistant, while the seating area is made of textile nylon fabric that lasts for years. The elastic bands and the fabric are flexible enough for comfortable sitting, and the steel support bar underneath offers additional footrest. There is even a flappable headrest for even more support and comfort. The chair weighs 17 pounds and supports 250. Its dimensions are 25 x 36.5 x 42 inches, and it reclines using 30-degree motion. The foldable recliner is a breeze to fold and store away, giving you a great option for picnics, parks, camping, or your patio.
3. Amazon Basics Outdoor Folding Rocking Chair
Amazon Basics products are always top quality and top reviewed. The same goes for the brand's folding chair that comes in five different designs, beige, black, navy, blue, and red. Its construction is made of a powder-coated steel, while the seating material is an ergonomic nylon mesh. The durable elastic cords are there to support your back and spine and provide additional comfort. The chair folds in seconds, convenient for both traveling and everyday backyard use. The armrests are padded for extra comfort and there is a removable headrest included. This chair is similar in size to the previous two at 37.4 x 38.58 x 24.9 inches, and it weighs 16.09 pounds. 
4. Timber Ridge Camping Rocking Chair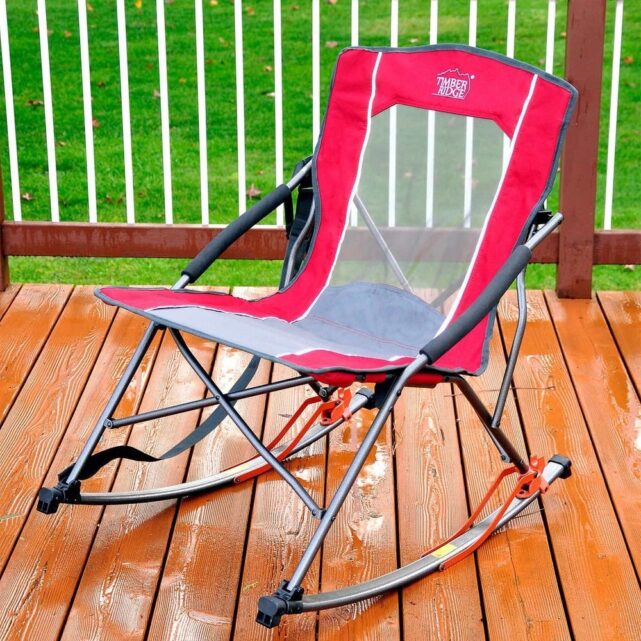 Timber Ridge is another fan-favorite brand of camping equipment. Their padded folding lawn chair is the sturdiest on the list, as it supports up to 300 pounds. It is equally useful for lawns, patios, yards, gardens, and outdoor activities like camping and picnics. There are three different styles available, lava, beige, and earth-side bag. The steel construction and polyester seating are comfortable and ergonomic, offering great levels of comfort while rocking.
There is also a bottom locking system that offers increased stability. The dimensions are 40.5 x 19.5 x 18 inches, and it weighs the most, 20 pounds. This is due to quality, resistant, and durable materials it utilizes. This model also has the longest back area measuring 29 inches from the seat to the top. Armrests are ergonomic for more comfort, and made of sturdy plastic for an extended life span. There is a 1-year manufacturer warranty against defects. One of the best things about it is the neat little side bag equipped with a beverage holder and a satchel for your go-to drink and snack, or the most often used tool. 
5. PORTAL Oversized Quad Folding Rocking Chair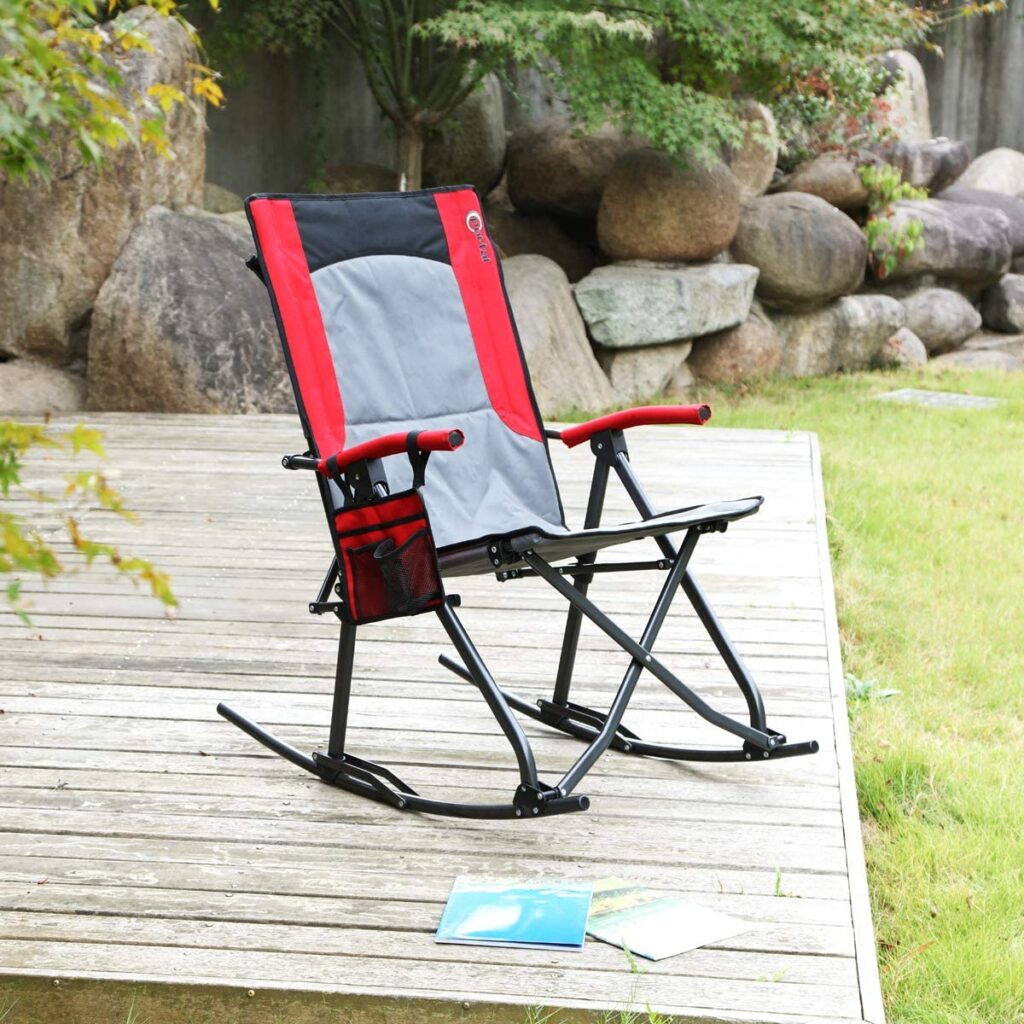 Our fifth and final rocking folding chair on the list is by PORTAL, supporting 300 pounds of weight just like the last one. It weighs 16.5 pounds and measures at 22.5 x 18 x 42 inches. Black, blue, and red color options are available, enough to fit in any yard. Thanks to its X shaped frame, it is very easy to fold and store away, measuring at only 40 x 7 x inches. Transportation is also a walk in the park. The rocking motion is safe and comfortable, without any worry of slipping or falling over.
Materials it is made of are top-tier and high quality, including a durable steel for the frame and high-density and weather-resistant polyester on the seat and back regions. The mesh is also breathable, providing air circulation and cooling. Furthermore, the armrests are hard and comfortable and the headrest is padded. There is a phone pocket underneath the seat, and a bag to carry the folded chair in. For more stability you can always lock the chair with front and back foot locks. 
Conclusion
Now that you know everything about the best rocking folding chairs on the current market, there is nothing to prevent you from enjoying your favorite outdoor activities. Whether you need a new piece of utility furniture for your daily or weekly garden work, or a trusty new companion on your weekend trips to the great outdoors, either one of these five rocking folding chairs is an amazing investment and a great solution. All of them are sturdy, durable, comfortable, and easy to transport, giving you absolutely no reason not to enjoy some quality time outside. For the best group experience with your friends and/or family, you can purchase several of the same model, or even one of each, and have great joint experiences while feeling as comfy as possible!